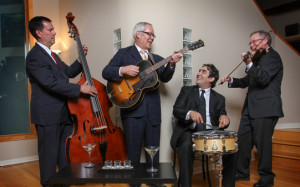 The '53 Swingbillies honor several traditions, including Gypsy Jazz, Western Swing, Rockabilly and Swing, as the name suggests. 1953 being the year that both Django Rheinhardt and Hank Williams died, as well as the year that guitarist/singer/songwriter Mark Kreitzer and fiddler Tom Schaefer were born, there may well be a cosmic connection beyond a love of the music! The band is rounded out with bassist/vocalist Chuck Kreitzer and percussionist Anthony Ihrig. An infinitely danceable band, we offer a sophisticated, fresh take on all things swing and country. Thanks to our original songs, we put our own unique stamp on any event. Whether you're looking for a band for a wedding dance, a swing dance, a corporate event or a festival, the '53 Swingbillies will make it memorable. Please have a listen, and then get in touch and let us know how we can serve you!
Upcoming '53 Swingbillies Shows
No shows booked at the moment.
Listen to the '53 Swingbillies